We are having a show in Chelsea! We will be partnering with the Chelsea Amateur Radio Club this Summer! SUNDAY– June 5, 2022! Show hours are 8am-4pm, dealer set up begins at 6:30am. There will be a continuous "Bargain Sale" as well as a final Bargain Auction around 3pm. We hope to also have a "Silent Auction". There will also be a "Beginners Guide to Audio Gear" around 10am and an ongoing "Audio Clinic" hosted by Muse Audio of Ann Arbor. For $20 they will analyze your item using sophisticated test equipment and tell you how its performing. General admission just $5 per person, kids under 18 FREE ! A food truck will be on site all day. Dont miss, probably the largest Vintage Electronics collectors show in the Midwest this year ! Vendors- advance registration not required but recommended. Larger outside vendors are requested to bring as many tables as they can, however, the event will have some rental tables available to add to spaces as needed. See form below. Grab a pal, a neighbor or heck, even your spouse, and come have a great time at this "safe" outdoor and pole barn event !
Show
Great Successful Fall Fair
On Saturday, October 2nd, we had a "fall fair" at the Chelsea Fairgrounds in Chelsea, Michigan. The weather was perfect, people were thrilled to be out and about, and most everyone would agree it felt wonderful to finally have a meet! With all the changing Covid rules, this meet was hastily thrown together, but it worked wonderfully. We are delighted to be back! We'd like to thank all those who worked to bring it together, especially Jeff Lilly. Our donation auction was huge, thanks mostly to the estate of Jeff Kabat whose donation was amazing in both quantity and quality! Paul Hart was at the Chelsea meet with his son, Jeff Hart. Jeff took many wonderful photos of the meet, you can see a slide show of them by clicking this link!
BARGAIN SALE
MARC had a "Bargain Sale" Sunday, July 18 at the MARC storage garage in Plymouth, MI. to sell accumulated items (as we typically do at the end of each of our regular "Expo" shows). A few MARC members sold items and staffed the sale. Several console radios and other items sold. Nearby was the Old Village "Bumpers, Bikes and Bands" car and motorcycle show as well, so we had extra good 'street traffic'. Pix below show some of the items in storage. Many of these are still for sale, so if you see something you want, contact Mark Oppat at 734-207-2346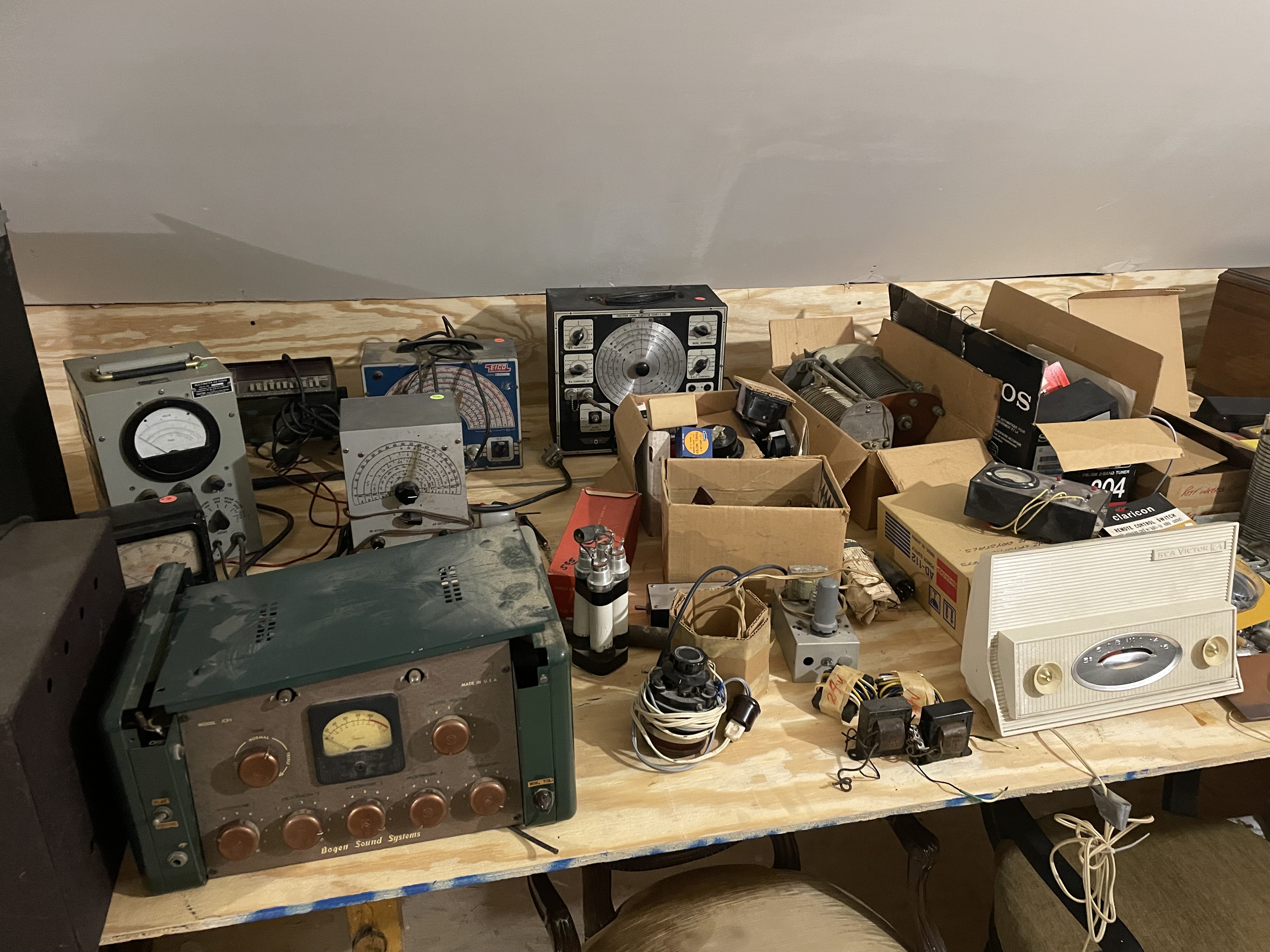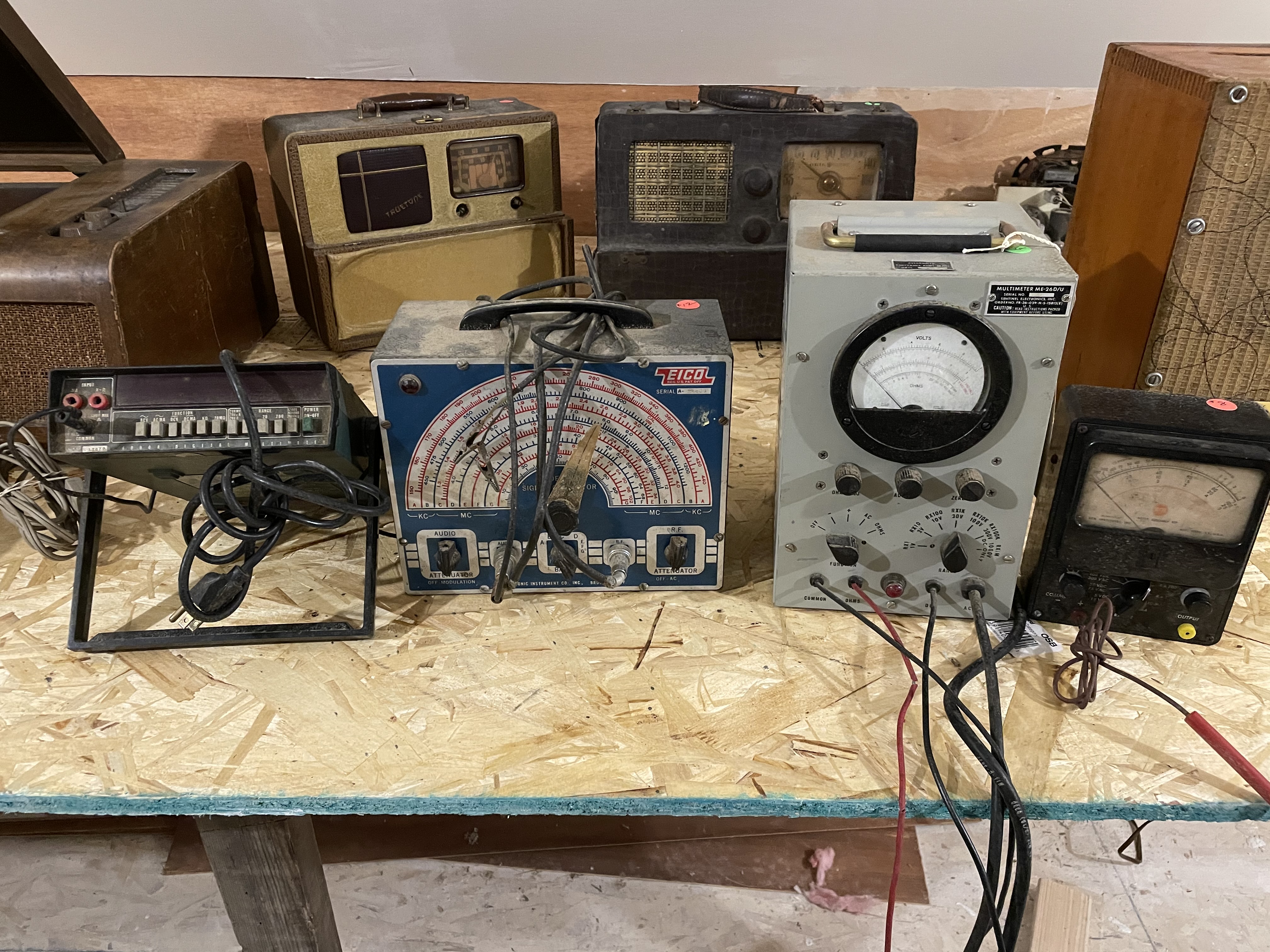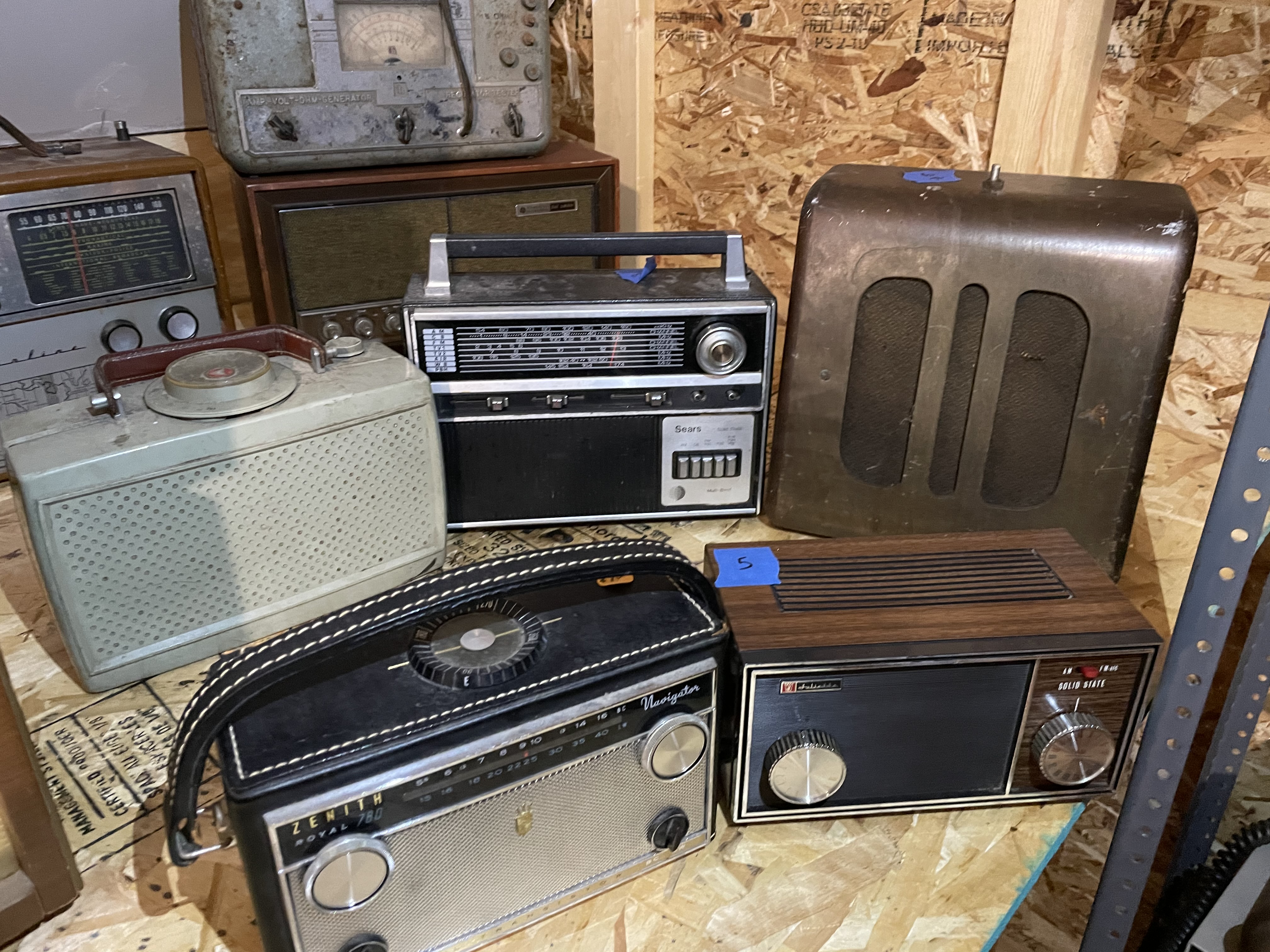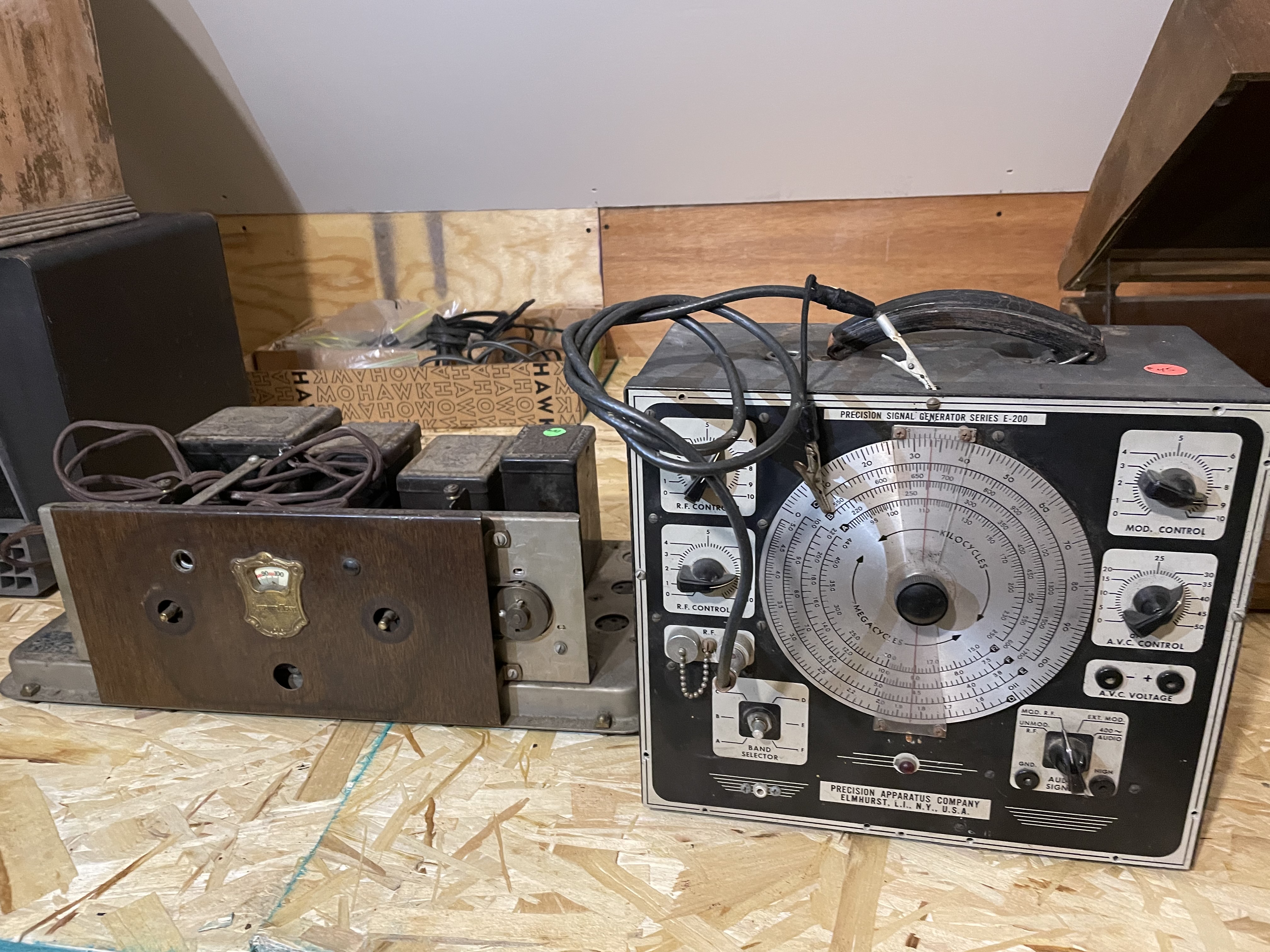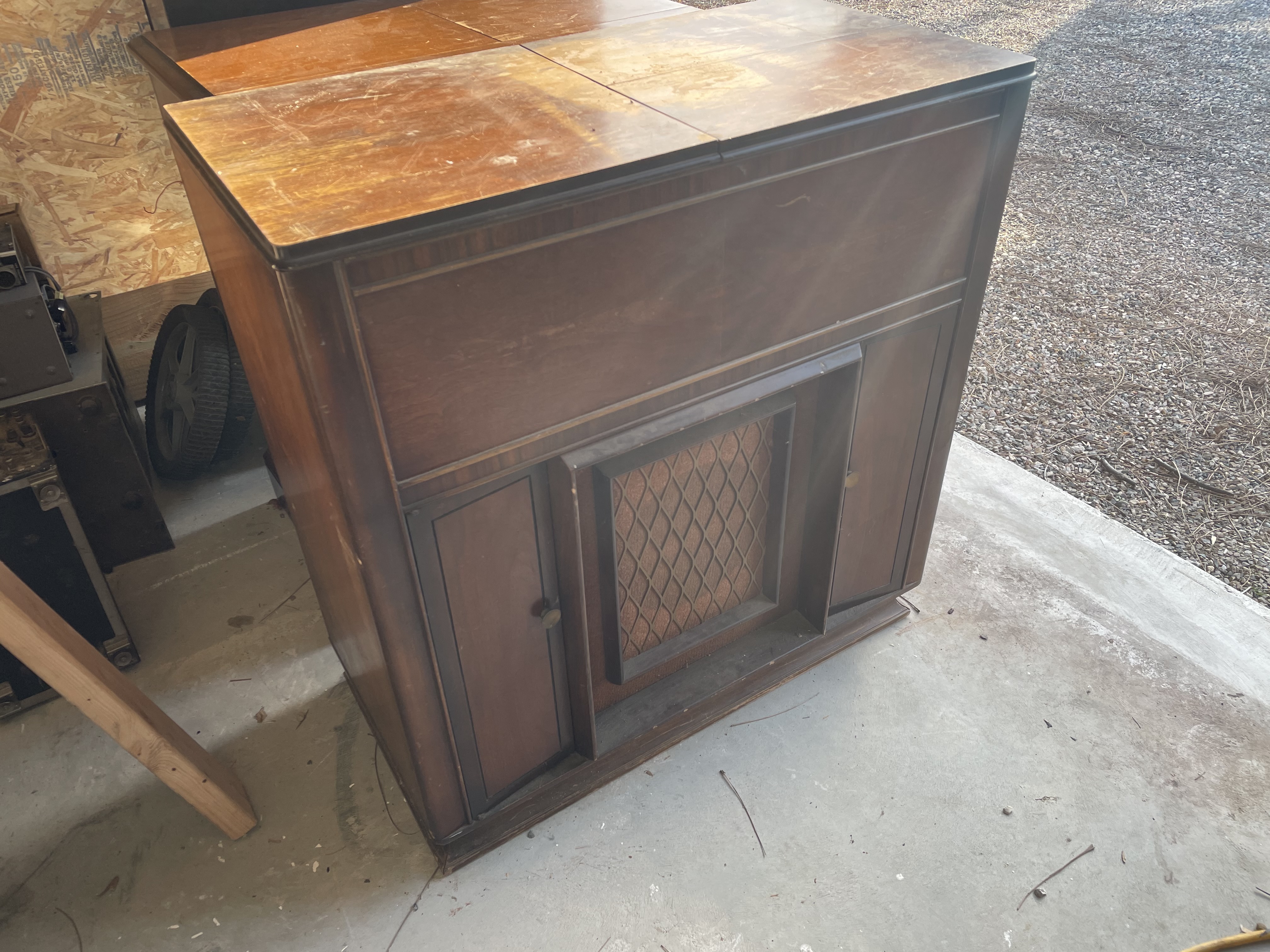 Our summer, 2021 Vintage Electronics Expo has been cancelled. We are starting to plan for our winter 2022 show! Hope to see you there!
The 2020 winter Vintage Electronics Expo was a huge success!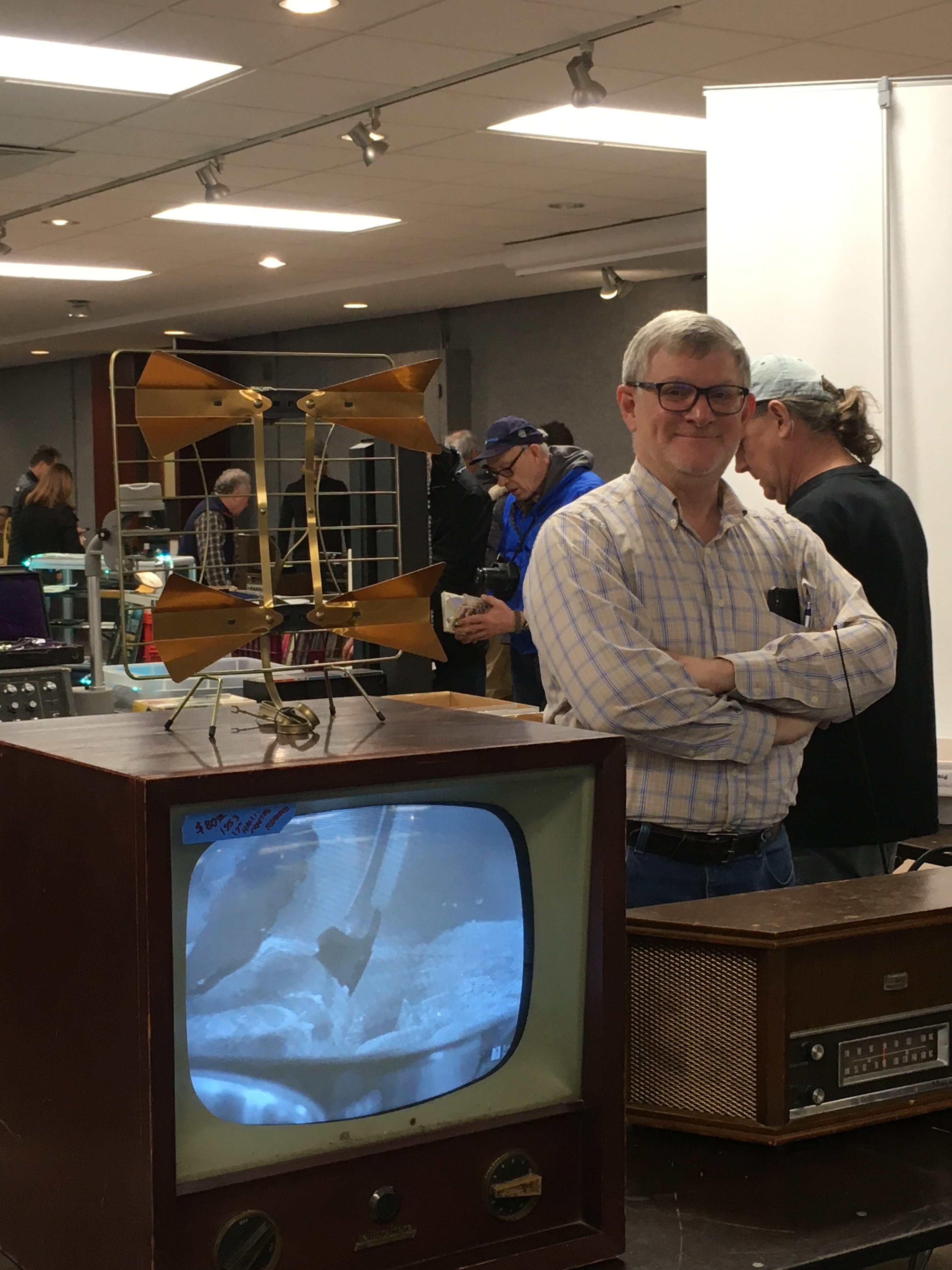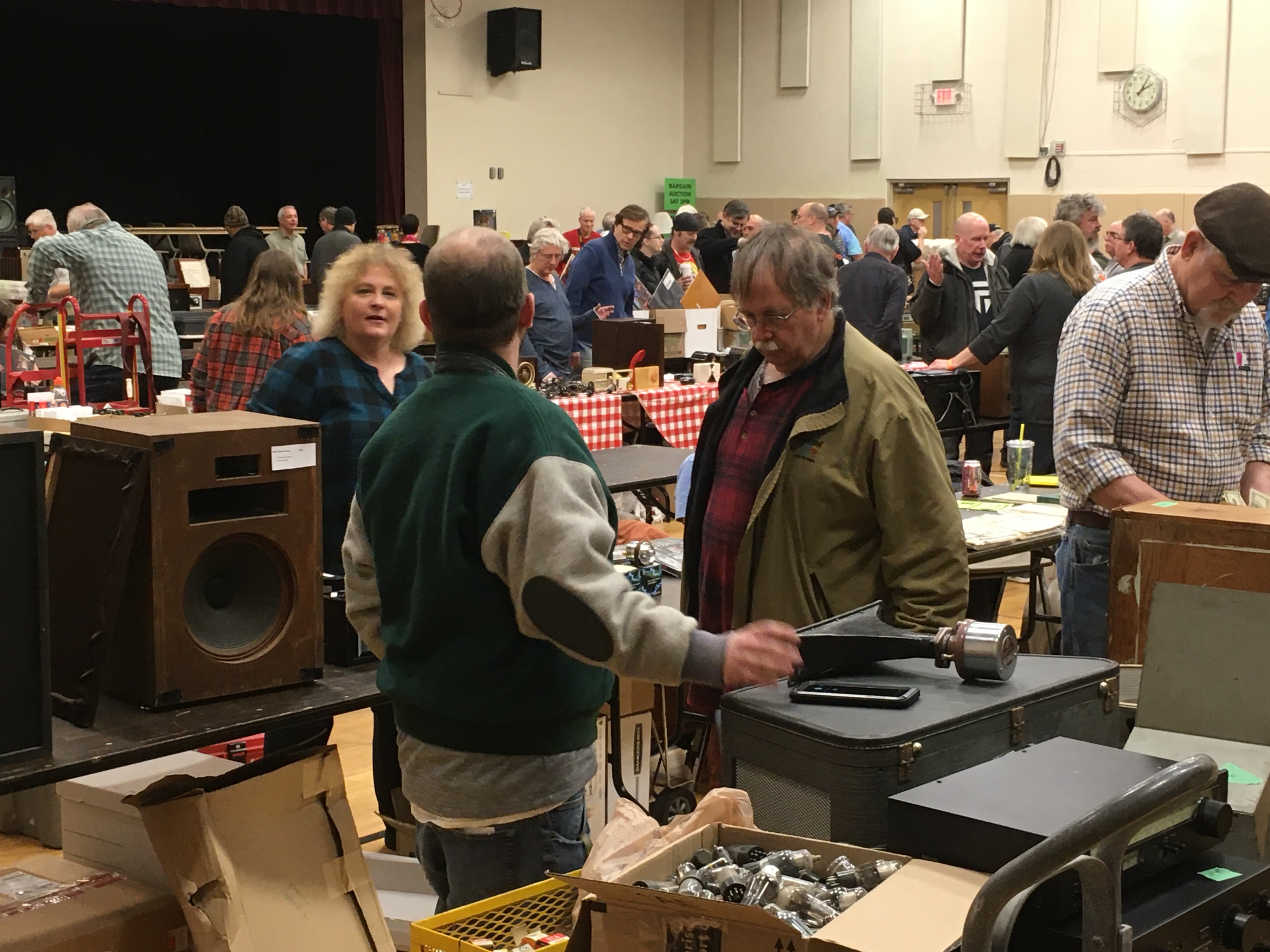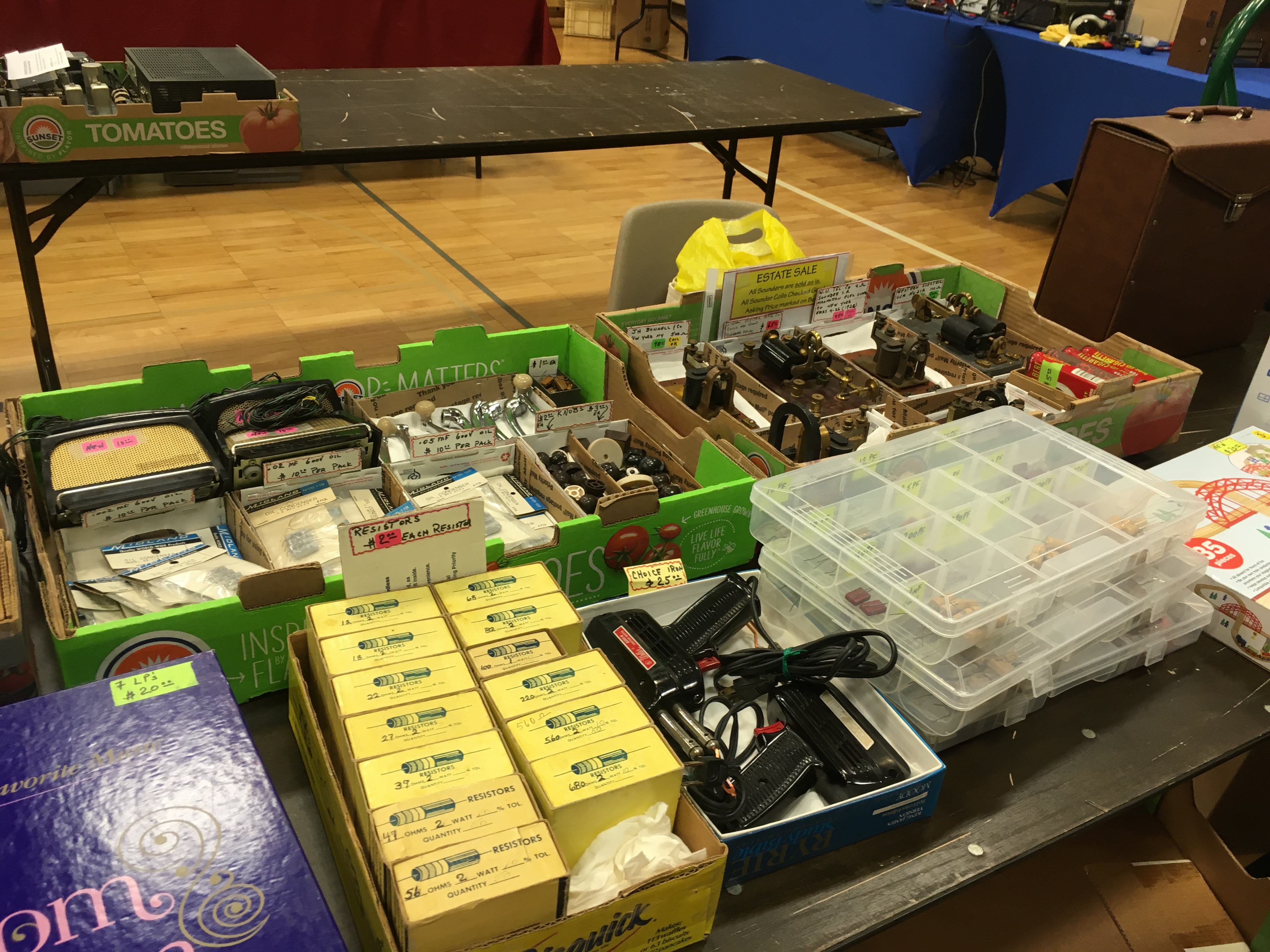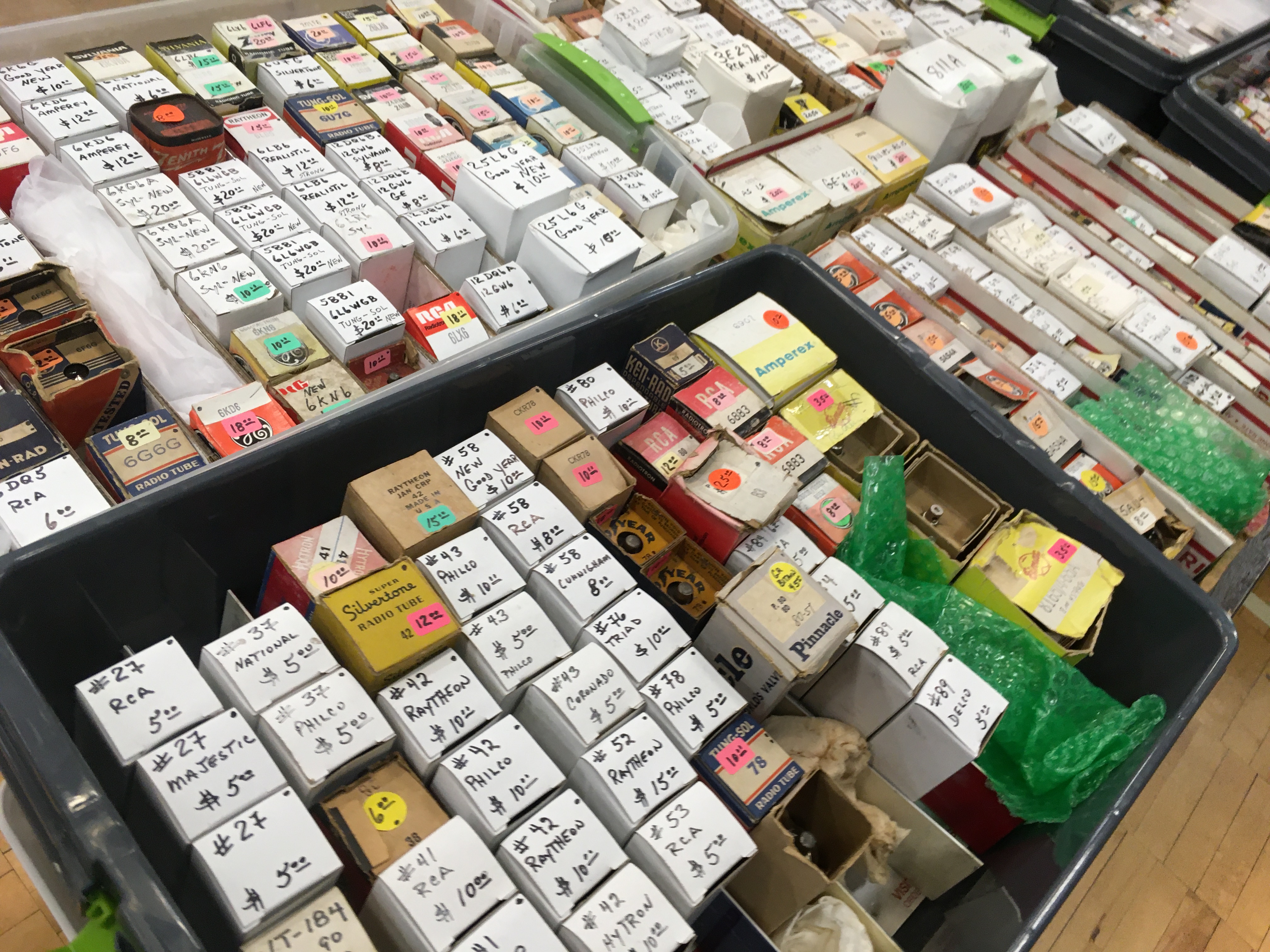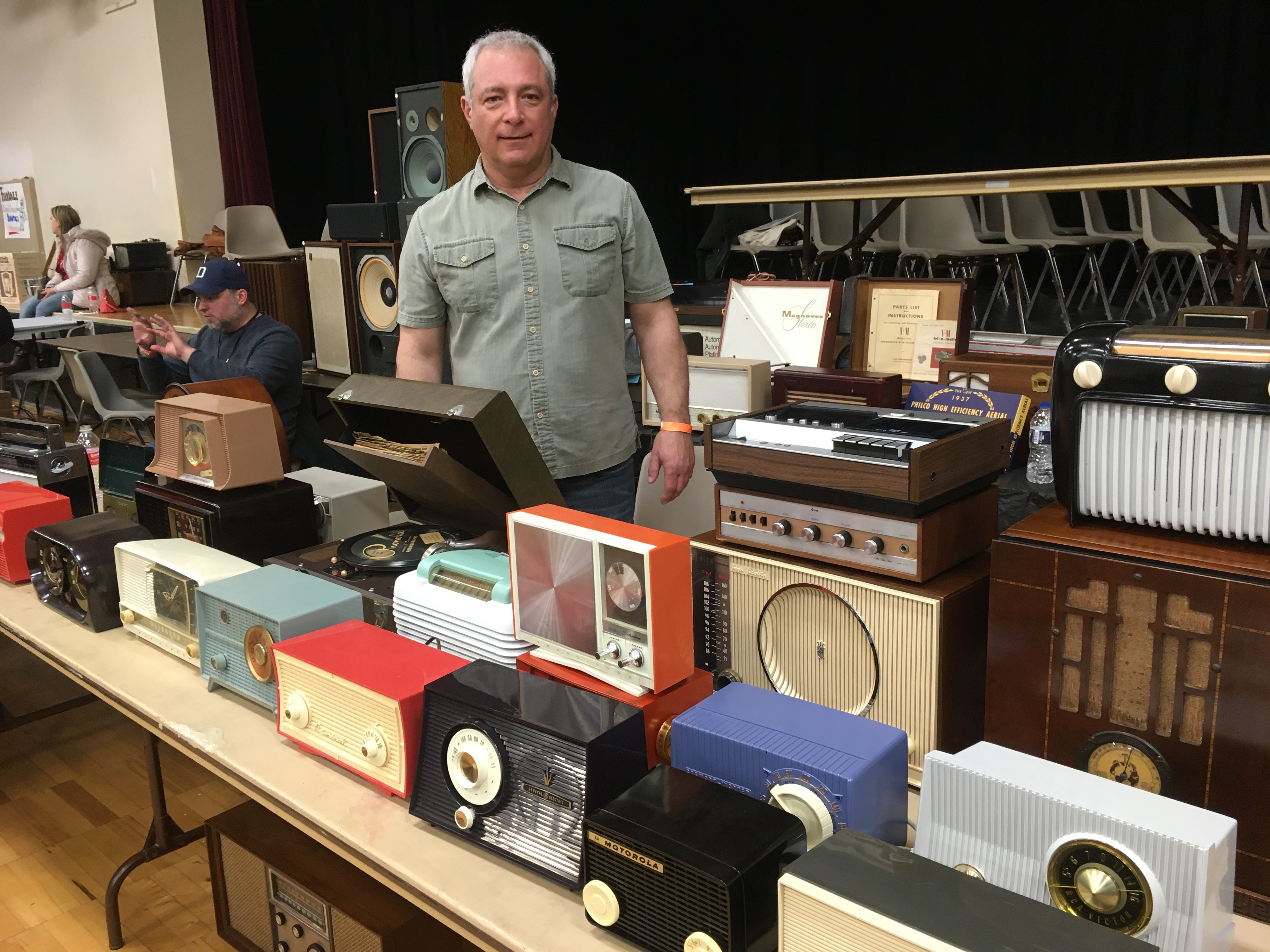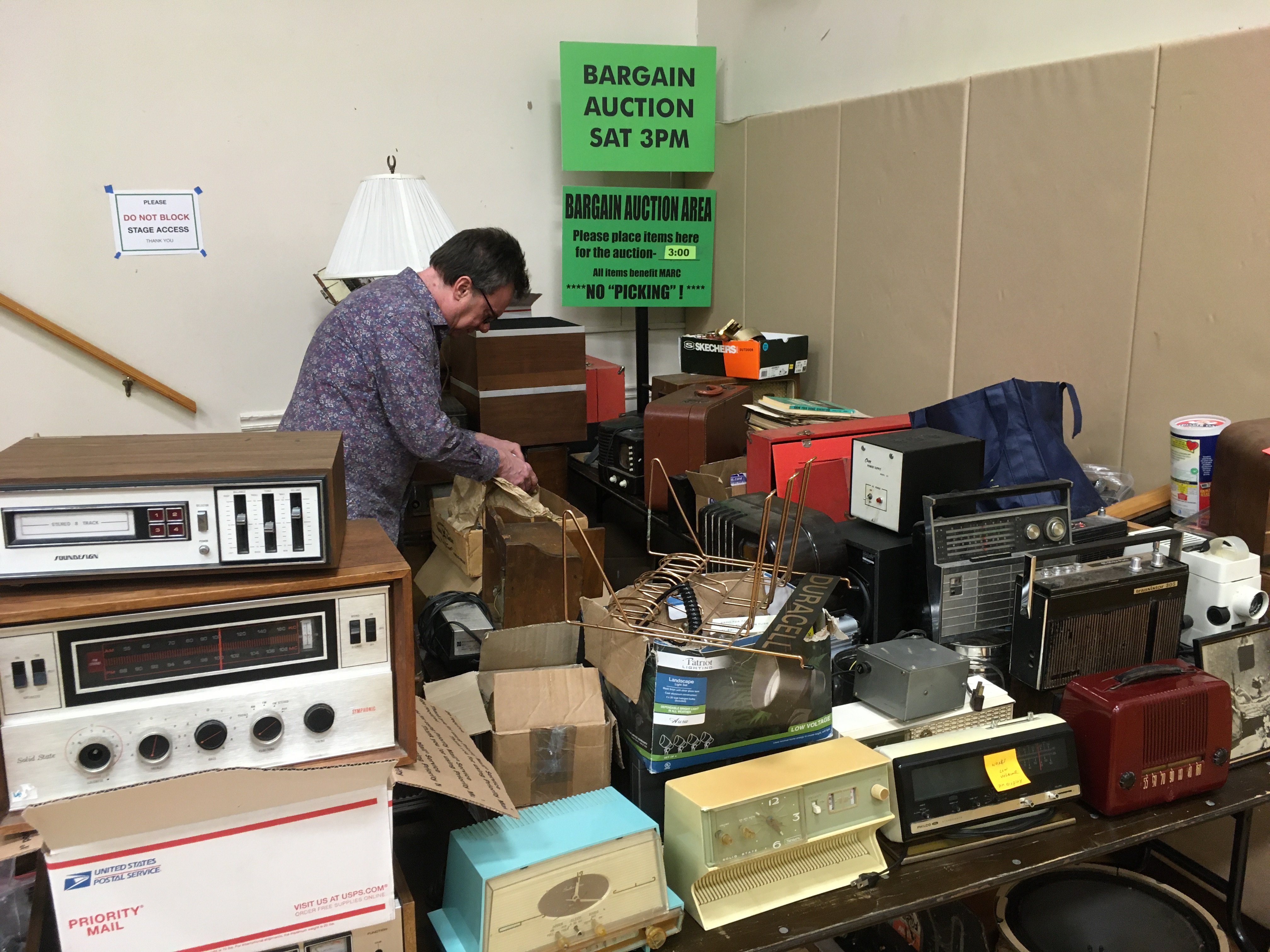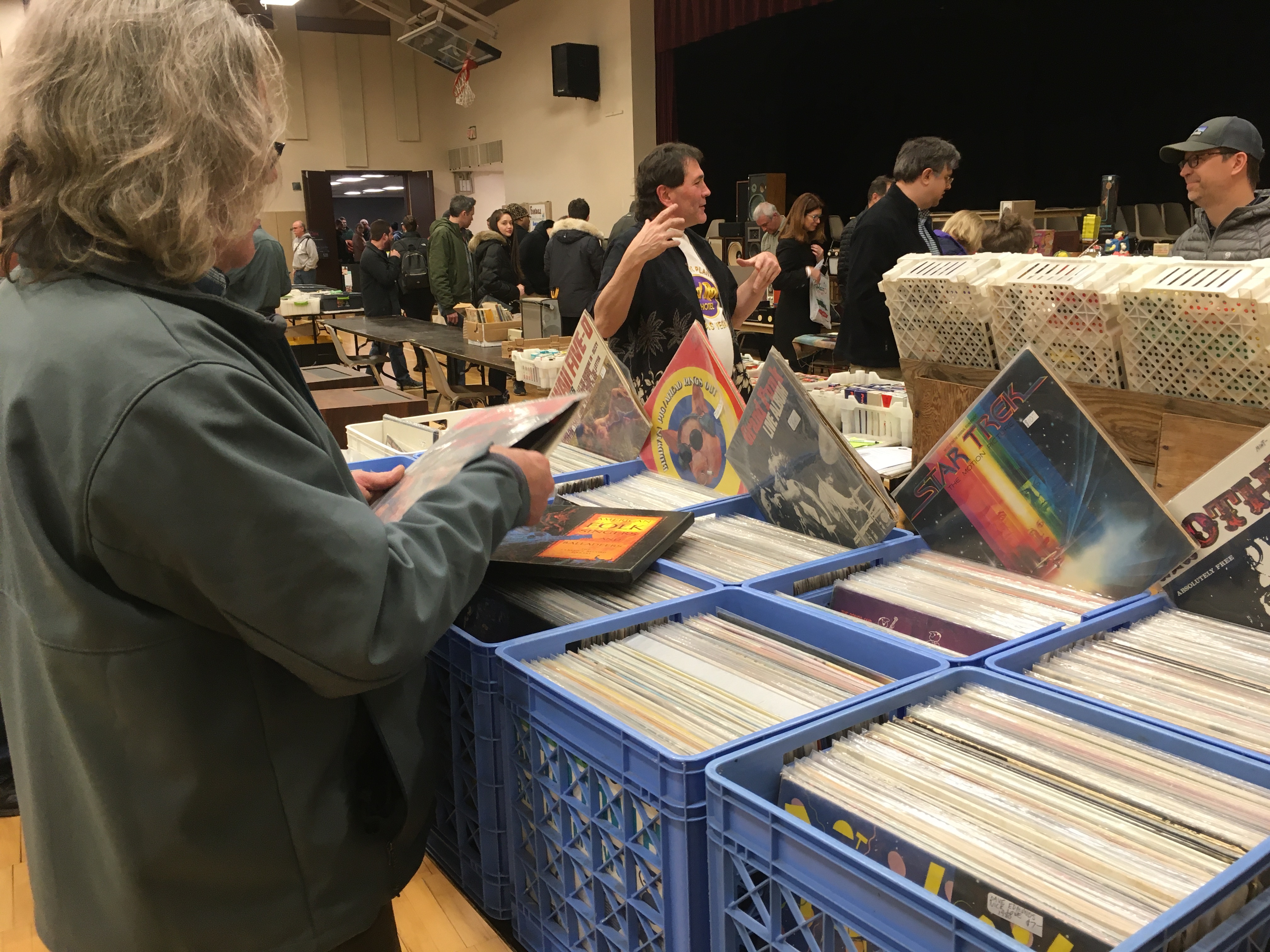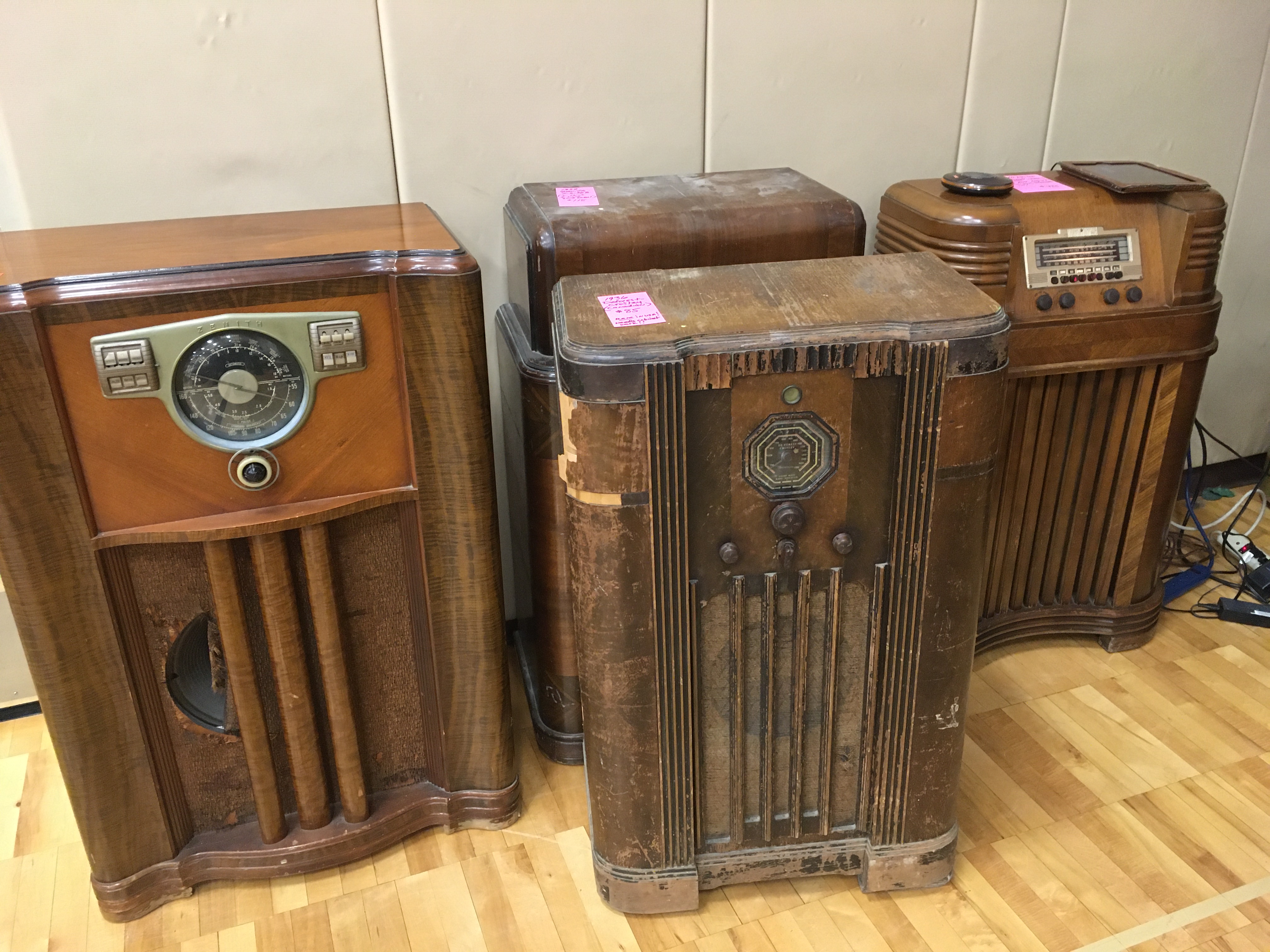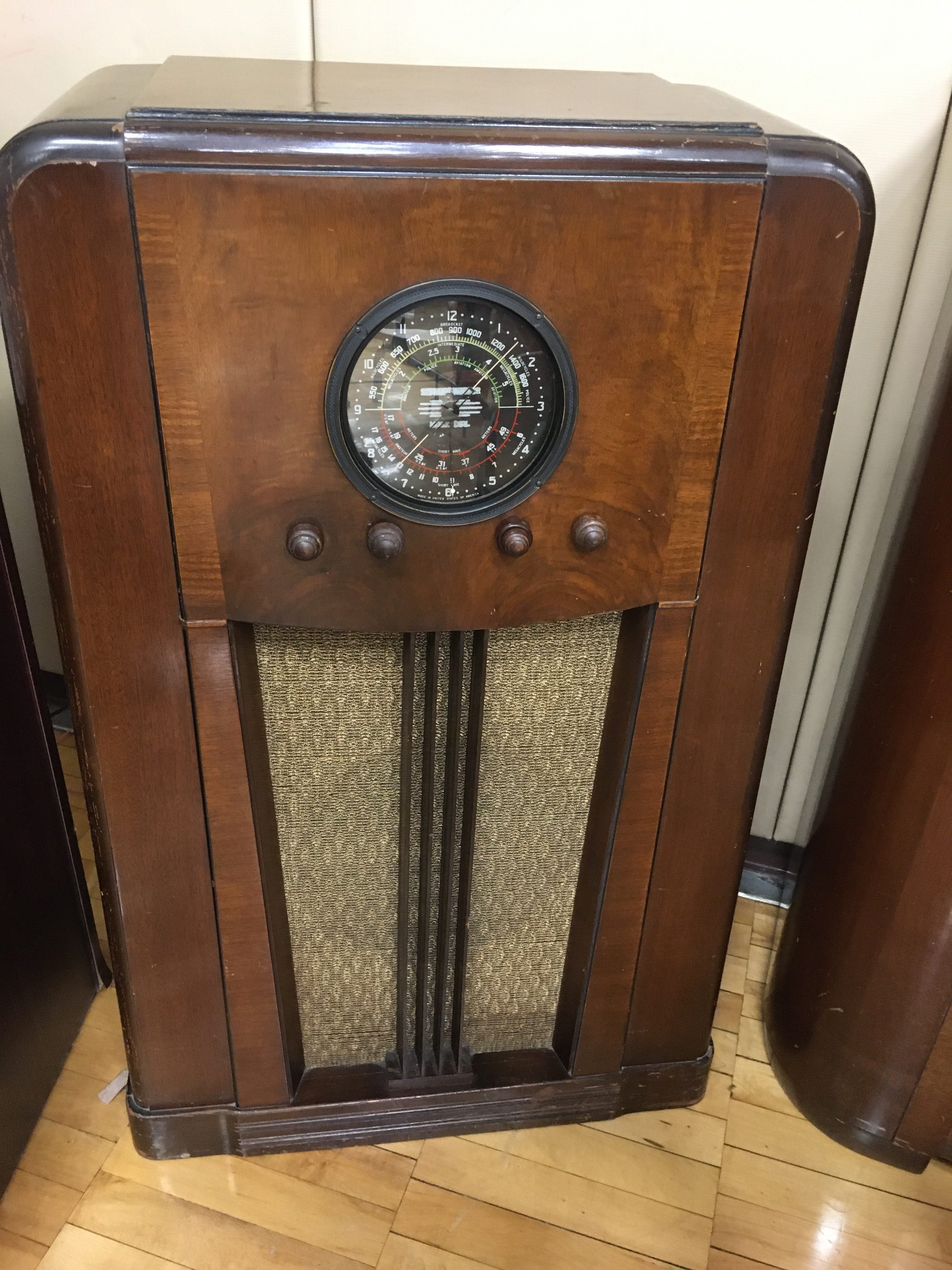 We had great shows in Kalamazoo and Farmington, thanks all who turned out! We had plans for our summer VEE to be in July but have now had to cancel due to the Covid-19 virus. We are still hoping to move all our future shows to the Burton Manor in Livonia, MI… We'll have 20,000 sf of Expo space, plus cash bar and food all day, seminars, auctions and all the fun you expect from a Vintage Electronics Expo event ! Watch here for new dates as we get them booked.
WHAT WE DO….
The organization holds two Vintage Electronics Expo events each year. Each event offers free appraisals of any vintage electronics type items brought in, much like the famous "Roadshow" seen on TV. At each show you will find vintage radios, TV, vintage calculating/computing gear, vintage audio stuff , test equipment, records, record players, parts, tubes and related vintage electronics items, all for sale by owners. Some are restored gems, others are "as-is" bargains. You can actually buy most "as-is" vintage table radios for under $50, many in great working order. Some highly priced gems can sell for over $2000. At our "Main Auction" in 2011 we had one of the most desired "Art Deco" radios sell for $34,000 ! It was found in a barn ! We never know what will show up ! General admission is $5 each day at these events. Kids 12 and under get in free.
Here is an overview of the Vintage Electronics events:
SUMMER- Our largest show (and the first ALL INDOOR multi-day vintage electronics event of this type in the USA) is moving to a NEW LOCATION at the BURTON MANOR in Livonia, Michigan. This show features a huge flea market, a "Main Auction", "Silent Auctions", seminars, and a Bargain Auction at the end of the event. Sellers and buyers come from all over the USA. General admission is just $5 per day, its more to attend all the seminars and be a seller. THIS SHOW HAS BEEN CANCELLED DUE TO THE Covid-19 virus pandemic. Watch this site for info on our next scheduled show. Stay safe and we will see you soon.
WINTER- Farmington Hills, MI…. at the Costick Activities Center . A record attendance of over 1100 came and over 130 tables of sellers !!! The next one should be the largest one ever.
For more info on any of the MARC events, call 734-20-RADIO (207-2346) or email moppat@comcast.net.
MARC also publishes The Michigan Antique Radio Chronicle, which is included with membership. Membership is currently $25 per year.

This picture shows the Lansing "Extravaganza" event from back around 1990 when we had a small tent ! This event grew for many years and is now ALL INDOORS