For information on the next Vintage Electronics Expo click HERE.
What we do…Over the years, the Michigan Antique Radio Club has hosted many Vintage Electronic shows/swap meets. The summer VEE has been cancelled due to the Covid-19 pandemic, but we will be planning the next show soon.   Watch this site for info !
THE VINTAGE ELECTRONICS "EXTRAVAGANZA" , our annual multi-day convention, is held every year in July. This show draws collectors from all over the U.S., Canada, and the world.  See pix of this on this site.   We fill nearly 20,000 sq ft of space and draw typically over 1100 attendees per show.
These meets feature a silent auction, contests, donation auction, and our popular "Radio Rescue".
The silent auction allows people who only have a few items to sell, or  non-collector walk-ins to sell an item or few items they brought in for evaluation. Sellers can set a minimum bid and if the item does not sell, they can take it back with no charge.  If it sells,  the club receives 10% of the sale price.
Our contests have three or four radio-related categories. The people vote for their favorites. First, second, and third place awards are given for each category based on the votes. This allows members to share their favorites and let attendees view rare and beautiful radios they would otherwise not likely see.
At the end of the meet we hold a donation auction. Anything a seller doesn't want to cart home can be donated to the club. We sell the items in a live auction and the money helps pay for running the meet. Many items go for under a dollar. Even a junk radio has a small value in parts. The donation auction helps insure that they don't go to the landfill while still useful.
Throughout the meet, we hold our "Radio Rescue". This is what makes our meets the "Road Show of Radio". Most everyone has an old radio they listened to as a child or were left to them by their family. Often, they would like to get it fixed, or sell it, or just find a home for it so they don't have to throw it away. We do a lot of local advertising of our meets and encourage people to bring their radios in for evaluation. We will look the radio over and give a current market value of the item. We show where replacement parts can be bought, find local repairmen, or give them the outlet to sell the item. MARC does not buy items outright, but we can help find potential buyers or put the item in the silent auction. Most of the radios brought in are fairly common and not very valuable.    There are no set prices for anything old, so "fair" is what a buyer and seller agree on at that time and location!   MARC often has collectors guide books on hand for reference which may be very high or very low prices compared to current demand and condition of item.
But the main event of these meets is the flea market. We typically have over 100 tables rented at the Winter Vintage Electronics Expo.  You will see more vintage electronics items than at any other winter event in the state. The activity of buying, selling, and swapping radios and parts keeps our club and the hobby in general active and dynamic. Both the beginner and veteran can find affordable treasures for their collections.
[FinalTilesGallery id='3′]
VINTAGE ELECTRONICS EXTRAVAGANZA- our BIG SUMMER SHOW !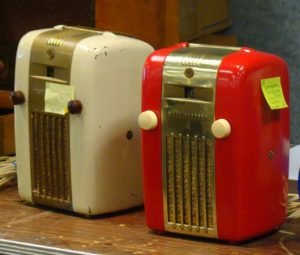 Each July, we hold our main event, the VINTAGE ELECTRONICS  "EXTRAVAGANZA". This event is one of the largest in the country.   For over 25 years this event was held in Lansing, then Kalamazoo and will be scheduled for Livonia, Michigan next,  after we get past the Covid-19 pandemic.     Both table and booth spaces are offered for sellers.   Watch this site for info in the future.
Besides the flea market, we hold presentations, contests, Main Auction , and our huge"Good Buy Affair" Donation Auction of items donated to MARC.  And our "Radio Rescue"  evaluation service is held throughout both days.
The "Good Buy Affair" donation auction caps off  the VINTAGE ELECTRONICS EXTRAVAGANZA.  It contains all the "treasures" the sellers do not want to haul home and have donated to the club. This is a great place to pick up parts and projects for just a few dollars or less. Its also a place to socialize and say farewell to friends and acquaintances who you will not likely see again until next year.