The Vintage Electronics Expo
Saturday, Jan 26, 2019   9am-4pm
Costick Center 28600 Eleven Mile Rd, Farmington Hills, MI.
admission $5.  kids 12 & under-free!
The largest indoor vintage electronics event in the USA.
Whats it all about ?   Vintage audio, radios, televisions, gaming and computer devices, related items such as vinyl records, CD's, ephemera and parts all for sale by knowledgeable dealers and collectors.    the 2018 VEE had record setting attendance of over 800 and over 120 vendor tables ! 

New this year  
Amplifier/tuner/ receiver clinic !  For $20 you can get your stereo or mono audio gear fully tested for distortion, power output, tuner sensitivity, etc.  You will get a print out of the performance specs at the end of the testing.  This will be done be Jeff Hall of Muse Audio in Ann Arbor, MI.   Testing of this type typically costs $50 or more !  This will be offered from 9am-3pm.  
Vintage electronic items are a trending collecting field.  Turntables have seen a resurgence with the return of vinyl records.   Radios of the past have beautiful and interesting cabinets made of wood, various types of plastics, metal, and even very rarely, mirror!    Most vintage radios can be purchased for well under $100, while others can command prices into the several thousands.  The sound of these vintage units is often praised by audio fans as "warm" and "uniquely enjoyable".    These are vintage items you can actually USE if properly serviced.   
FREE- Vintage Electronics "E-Valuations" by expert collectors !
Bring your vintage radios or audio gear (or clear pix and any model numbers or info you have) for "E-Valuation" by our experts.  We can also recommend repairs or parts sources if desired.
Have stuff to sell ?  You can get a vendor table (see info HERE) or, place the item in one of the two "Silent Auctions".   Its EASY…. just fill out a form with your minimum bid price.  The first auction runs 10am-11am, the second is noon-1pm.   Check in is half hour before each, and the pay out is directly after each.  The club retains 10% of the selling price and all sellers and buyers get settled up right after the auction closes.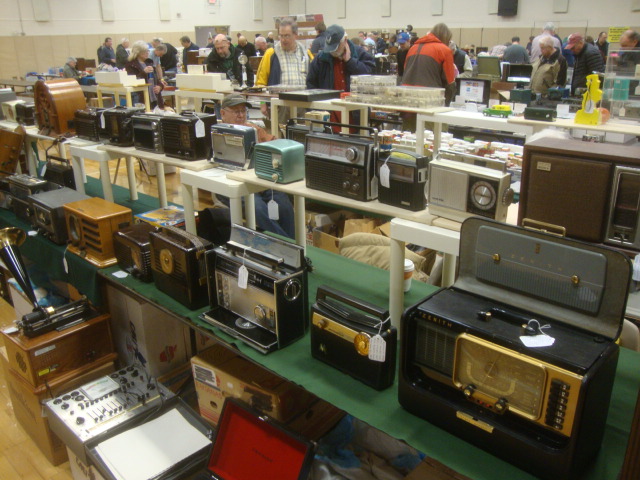 ******************************************************
The Summer VEE is July 19-20 2019 at the Kalamazoo Expo Center – Mark your calendars !  
******************************************************
WHAT WE DO….
The organization holds two Vintage Electronics Expo events each year.    Each event offers free appraisals of any vintage electronics type items brought in, much like the famous "Roadshow"  seen on TV.    At each show you will find vintage radios, TV, vintage calculating/computing gear,  vintage audio stuff , test equipment,  records,  record players,  parts, tubes and related vintage electronics items, all for sale by owners.  Some are restored gems, others are "as-is" bargains.  You can actually buy most "as-is" vintage table radios for under $50, many in great working order.  Some highly priced gems can sell for over $2000.  At our "Main Auction" in 2011 we had one of the most desired "Art Deco"  radios sell for $34,000 !  It was found in a barn !    We never know what will show up !  General admission is $5 each day at these events.  Kids 12 and under get in free.
Here is an overview of the Vintage Electronics events:
SUMMER- Kalamazoo, MI.  Our largest show (and the first ALL INDOOR  multi-day vintage electronics event of this type in the USA) has moved from our long time Lansing location to Kalamazoo Expo Center, located at the Kalamazoo County Fairgrounds.    It is usually the second full weekend after the 4th of July holiday.  This show features a  huge flea market,  a "Main Auction",  "Silent Auctions",  seminars, and a Bargain Auction at the end of the event.  Sellers and buyers come from all over the USA.   The club encourages the general public to attend… the admission is just $5 per day.  Thursday is a set up day only (no sales allowed and only dealers admitted), then the flea market opens FRIDAY morning.     We also offer a "Roadshow" style evaluation  service at each show.  The club encourages folks to bring in items for appraisal, repair or parts info, or to donate to the club.  Bring clear pictures if the item(s) are too large to move.   Best to contact us first if you have a collection of items you wish to sell or donate to the club.
WINTER- Farmington Hills, MI….  was held  Saturday, January 27, 2018 at the Costick Activities Center .   A record attendance of over 800 came and over  120 tables of sellers !!!    Next Winter Vintage Electronics Expo will be Saturday, January 26, 2019.    Bookings for seller spaces at that show will begin sometime in November.
For more info on any of the MARC events,  call 734-20-RADIO (207-2346) or email moppat@comcast.net.
MARC also publishes The Michigan Antique Radio Chronicle, which is included with membership.  Membership is currently $25 per year.

This picture shows the Lansing "Extravaganza" event from back around 1990 when we had a small tent !  This event grew for many years and is now ALL INDOORS  with 40,000 square feet each July inside the Kalamazoo Expo Center !